Ocean Beach Garden Cottage
Property overview
Ocean Beach, San Diego, CA, USA
Cottage

Sleeps: 4

Bedrooms: 2

Bathrooms: 1

Min. Stay: 2–3 nights
Bright and Breezy Beach Bungalow Whispers "Summer" all year round.
Tour this property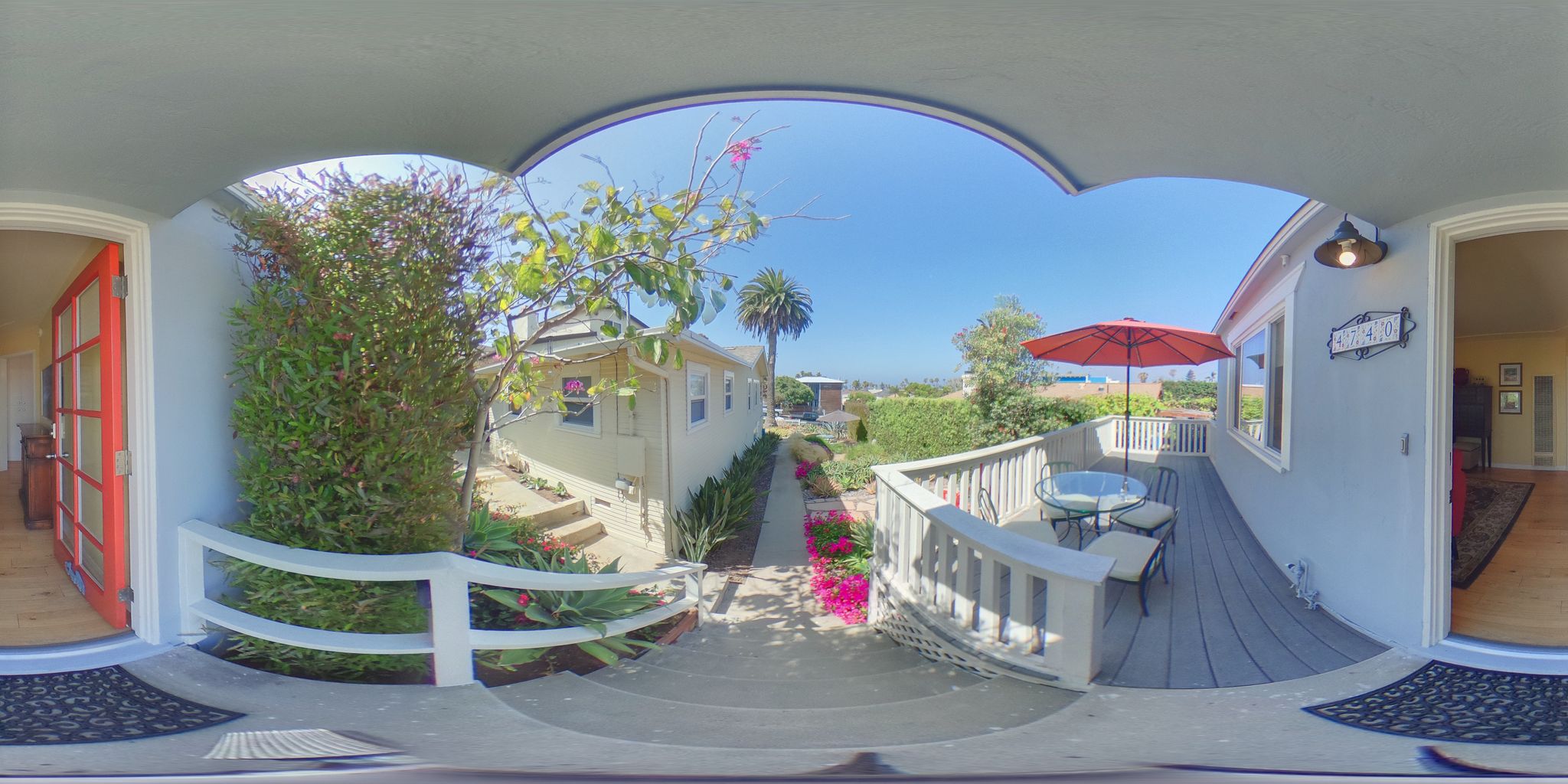 Owner
Ask a question
About Rodney
Welcome! My family and I have lived in Southern California for 20+ years and we are grateful for the opportunity to share our beautiful coastal and desert cities with family, friends and guests who travel from near and far. Since 2013, we've welcomed 1,267 guests from 10 countries. Thank you for helping us build a world where we all belong, one guest at a time. Our motto: "We travel not to escape life, but for life not to escape us." Whether you enjoy the ease and independence of a Vacation Rental where you simply pick your spot and push a button, or you prefer a Vacation Rental where you can interact with the owner in one-on-one discussions before booking - through post departure, you deserve the very best experience. We appreciate and offer good, old fashioned customer service - and aim to delight our guests. Lost your way in unfamiliar surroundings? Call us. Unsure about local romantic or family-friendly restaurants? Text use. Forgot your anniversary and need something special right away? Email use, we are here to help. We look forward to your stay at our charming Sunset and/or Garden Beach Cottages in San Diego's laid-back and loving-life beachfront neighborhood of Ocean Beach, or our historic Palm Springs Modern Classic, located in the groovy mid-century modern neighborhood of Twin Palms (listing #449481). Happy Travels! Rodney | FunStayGo
Rodney purchased this Cottage in 2014
Why Rodney chose Ocean Beach
Welcome to Ocean Beach, where the sun sets on San Diego! I absolutely adore OB. Interstate-8 ends at OB, making it a destination, not a flow-through. As you enter the OB community, you will find a low-key beach community filled with flair and personality, and one of the last truly-authentic surfing communities remaining in Southern California. The cottage is conveniently located close to restaurants, shopping, and all the sites and attractions San Diego is known for - a genuine wonderland to spend entire days with family and friends - all within a short walk or drive to: 1. Sea World 2. San Diego Zoo and Animal Safari Park 3. Lego Land 4. Concert / Theater Venues 5. Balboa Park - one of the oldest urban cultural parks - with over 15 museums, 15 gardens, and 10 attractions and venues... including the World Famous San Diego Zoo 6. Local Universities include USD, UCSD, San Diego State, and Point Loma Nazarene 7. Downtown / Convention Center and Gas Lamp District 8. Coronado Island / Military Facilities 9. Our gorgeous beaches - 70 miles of pristine coastline... 10. ... and year-round sunshine and mild temperatures so you can enjoy the surf and sand almost any day of the year. Welcome to San Diego!
What makes this Cottage unique
The Garden Cottage sits in the residential neighborhood of Ocean Beach (OB) - between Sunset Cliffs and the OB business district. The cottage is close enough to stay connected to the local scene (walk to the public beach, restaurants, dining and shopping) but far enough away to enjoy quite relaxation, sounds of splashing waves, and the ease of on-street parking - often right in front of the cottage. OB is a low key beach community filled with flair and personality. Said differently, OB offers the pitch perfect throw-back groovy vibe of a vintage Southern California beach town, coupled with friendly locals, great dining, and a vibrant beach and surf scene. The Garden Cottage sits two blocks from the coastline and secluded beaches, and is a short 5-20 min stroll to shops, restaurants, entertainment, and the public beach - offering lifeguard-supervised swimming and surfing areas, restrooms, and showers. The Garden Cottage is also centrally located and a short 5-15 min drive to most area Universities, Sea World, Downtown/Convention Center, and Balboa Park - the nation's largest urban cultural park. Balboa Park is home to 15 major museums, renowned performing arts venues, beautiful gardens and the world famous San Diego Zoo. The Park has an ever-changing calendar of museum exhibitions, plays, musicals, concerts, and classes—all in the beautiful and timeless setting. Enjoy your visit!
Amenities
Featured
No Smoking

Children Welcome

TV

Satellite or Cable

Washer & Dryer

Internet

Heater

Parking
House Rules
Check-in: 3:00 pm
Check-out: 10:00 am
No parties/events
Sorry, we really do like our neighbors.
No smoking
Violations may result in $500+ cleaning fee.
No pets
For guest/family who suffer from allergies/asthma
Children allowed
Pack N' Plan & High Chair Available Upon Request
Minimum age of primary renter:25
Max guests:4 (sleeps up to 4 adults)
Outdoor Quiet Hours are 10:00 PM - 8:00 AM. Outdoor conversations and fire-side chats after 10:00 PM are to be avoided (and/or moved indoors).
Outdoor Music of any kind (and at any time) is forbidden. Indoor Music may not be disruptive or audible from the property line.
Violations of House Rules may result in immediate disengagement of reservation - with no refund of cleaning fee, deposit or unused nights.
Cancellation Policy
100% refund if cancelled at least 30 days before arrival date. 50% refund if cancelled at least 14 days before arrival date.
Reviews
1–6 of 48
Lovely
Such a perfect location and lovely cottage. It was just like the photos and better.
San Diego Stay
Jeff B.
Sorrento, Western Australia
Thanks Rodney. Great place! The family and i enjoyed the stay. Thank you.
Great house and location
The house is darling! The backyard patio is spectacular . The house was clean and felt like home. Location is wonderful. Owner is easy to deal with and quick to reply if you have questions
Very cute, neat and clean. I recommend.
Stayed at the Garden Cottage for a few days in late July/early August. Loved the place. Very cute, neat and clean. Rodney was great to work with, I had a few questions before and during our stay, and every time he responded within minutes. We had no issues parking on the street right in front, or really close to the house. There is no AC, so it does get a bit warm in the summer, but there are lots of fans. As other reviews have mentioned, you can hear the planes, although it didn't bother us. I recommend it, would stay here again.
Side note: If you've never been to Ocean Beach, the area right around the pier isn't great, lots of homeless, trash, run down buildings, but the beach park a couple hundred feet to the north is nice. I mention this because we walked to the pier the 1st night, and were disappointed, ended up driving to different beaches the following days. Then on the last morning we went to ocean beach again for coffee and walked a little further to the beach park, and wished we had spent more time there.
Relaxing stay!
Very comfortable little cottage, perfect for a small family with young kids. Beautifully landscaped, the back yard was a wonderful place to relax and have some wine while kiddos napped :) Rodney rocks as a VRBO host!
Owner's Response:
We were happy to host you and your lovely family, Erik. Thanks for taking such great care of our home during your stay. We look forward to your return visit to San Diego - or Palm Springs. Happy travels!
Fantastic cottage, location & host.
We lived in the Ocean Beach Garden Cottage for a month. The cottage is exactly as pictured, very clean and well appointed with kitchen appliances, cookware, dishes and pantry basics (spices, oil, coffee/tea, food wrap, etc). The in suite washer/dryer includes soap and a small drying rack. A broom, mop, vacuum and cleaning supplies were a plus for this clean nut, as well as the mid-stay housekeeping by the staff. The backyard patio with chairs, fire pit and hammock was very private and a great extension of the house. The wifi at the cottage was strong enough for my husband to continue to work remotely. We used the wagon to make a few trips to the grocery store. If you bring a bicycle, there is an excellent pump in the storage area!
The bedrooms are average size with ample storage and have very comfortable beds with extra linens. There are plenty of towels, and although the bathroom is small, it was clean. Our two adult daughters visited for five days, and we managed!
Ocean Beach is a great fun neighbourhood and we managed to walk everywhere (restaurants, groceries, beaches, sunsets, etc). For our first ten days, we used "ride sharing" and no tourist destination was further than a $10-15 ride away. We had a rental car for the remainder of our stay, and always got a parking spot out front. The airport is a 15 minute drive away and the takeoffs do start at 6:30AM; but the noise was not disturbing to us.
Rodney is a fabulous host, meeting us on our first day with amazing cookies. He was very easy to communicate with and had many tips on things to do. Even when a family emergency took him out of town, he had resources in OB to make sure we were taken care of.
Many thanks Rodney for a wonderful month away from the snow and cold!!
1–6 of 48
Map
Ocean Beach, San Diego, CA, USA
The thing is, OB and the OB Cottage offer a cozy, fun, safe, and clean respite for all to enjoy, but there is even more to offer in the surrounding area. If you're not from San Diego or have not visited before, indulge for a moment in things all San Diegans appreciate:
1. Nothing brightens a day more than the sunbathing seals in La Jolla.
2. Except maybe doing some sunbathing yourself.
3. Mexican food isn't a cuisine. It's a lifestyle.
4. To be clear, the grungiest-looking places are always the most delicious.
5. When it comes to enjoying the great outdoors, the best beach hike ever is at Torrey Pines State Park.
6. And sometimes you just need to get naked outdoors. That's where skinny dipping at Black's Beach comes in.
7. San Diego farmers markets are to die for. And they're open year-round. Don't miss OB's market on Newport Ave every Wednesday starting at 4:00 PM.
8. Because, seasons? What are seasons?
9. The Self-Realization Fellowship gardens are free and wonderful.
10. Though Balboa Park is pretty hard to top.
11. San Diego has been deemed America's craft beer capital.
12. If you don't surf, skate or practice yoga, you should or will after your visit.
13. For the record: 'Beach bum' is not a derogatory term.
14. Nothing beats a San Diego sunset on the beach (especially in OB).
15. Except maybe a San Diego sunset seen from a hot air balloon. We have a lot of hot air balloons.
16. And last but not least, San Diegans know how to keep it classy.
Enjoy your visit!
Getting around is easy!
A car is a "nice to have" but not necessary:
- San Diego International Airport (SAN)
* Car = 4.1 miles / 15 min drive
* Taxi Fare & Uber estimator (online apps):
... Taxi = ~$27.50
... UberX = $15-$18
- Old Town Neighborhood / Transit Center (Bus, Trolley & Train)
... Bus = ~37 min ride; Bus #35; $2.25
Note: Bus #35 boarding @ Orchard Ave & Ebers St; ~3 min walk from cottage
- Sea World Animal Theme Park - 500 Sea World Drive
... Walk = 2.8 mi / ~45-60 min
... Bus = ~60 min ride; Bus #35 transfer to Bus #9 towards Pacific Beach; 4.50; with ~10 walk to entrance gate
... Car = ~14 min drive (3.8 mi)
... UberX = $8 - $11
- Bermuda Ave. Beach Cove = 0.3 miles / 10 min walk
- Santa Cruz Ave. Beach = 0.3 miles / 10 min walk
- Public Beach (pier, life guards, restrooms & showers) = 0.9 miles / 15-20 min walk
- Newport Avenue / OB Business District (shopping, dinning, entertainment, and weekly Farmer's Market on Wednesday at 4:00 PM) = 0.6 miles / 15 min walk
- Sunset Cliffs (scenic ocean views, surfing, cliff-jumping) = 0.3 - 2.0 miles / an enjoyable walk, run or bike ride
- Grocery Store:
* Local
1 - The Olive Tree Market (4.6 stars) is ~8-min walk (0.4 mi)
2 - Ocean Beach People's Organic Foods Market (4.6 stars) is ~20-min walk (1.0 mi)
3 - Abbott Market (3.0 stars) is ~24-min walk (1.1 mi)
* Nearby
1 - Baron's Market, Point Loma - 4001 W. Point Loma Blvd.
... Walk = ~44 min walk (2.1 mi)
... Bus #35 = ~19 min ride; $2.25
... Car = ~8 min ride
... UberX = $7 - $9
2 - Vons - 3645 Midway Drive
... Bus #35 = ~21 min ride; $2.25
... Car = ~9 min drive (2.7 mi)
... UberX = $8 - $10
2 - Ralphs - 3345 Sports Arena Blvd
... Bus #35 = ~28 min ride; $2.25; with an ~5 min walk
... Car = ~13 min drive (3.1 mi)
... UberX = $8 - $11
3 - Sprouts Farmers Market - 3315 Rosecrans Street
... Bus #35 = ~32 min ride; $2.25; with an ~4 min walk
... Car = ~11 min drive (3.3 mi)
... UberX = $9 - $11
4 - Trader Joes - 2401 Truxton Rd
... Bus #923 = ~43 min ride; with ~16 min walk
... Car = ~11 min drive (3.0 mi)
... UberX = $8 - $10
- Public Gym / Pool
1 - Peninsula Family YMCA, 4390 Valeta Street, 619-226-8888 (2 FREE visits for first-time visitors + every Friday in December is FREE and does not count against first 2 free visits; $20 day-pass after that.)
... Walk = ~34-min (1.6 mi)
... Bus #35 = ~19-min ride; with an ~6-min walk; $2.25
... Car = ~8 min ride
... UberX = ~8-min ride; $6 - $8
Enjoy your visit!
San Diego City Permit Number: 610541 (Feb'17)